Without fail, every major New York publisher wrote to say that my memoir of surviving a machete attack, is written, "extremely well" and the story is "gripping" and the book is a "page turner." I take that as a huge compliment.
However, despite the accolades, not one publisher had the courage to publish it.
"We don't know where to place it," said some. Others said, they are only publishing Israeli authors if they are writing about "brain and gender studies."
This screenshot is the response of one publisher who turned it down.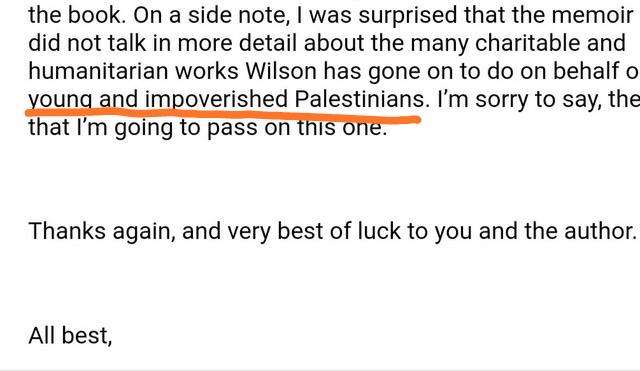 So why didn't I write about the "young and impoverished Palestinians"? (Actually my attackers were hardly "young" at 34 years old…)
Well, firstly MY memoir happens to be about ME (funny that) and not about other people. Secondly, MY memoir is about MY anguish, MY torment and MY years of unrelenting hell. MY memoir is also about MY beautiful people Israel, yeh, that nation state of the Jewish people, who continue to be instrumental in helping me back to health. 
How outrageous, that publishers could read about my suffering and the slaughter in cold blood of my friend, then try to restore the balance with "young and impoverished Palestinians," crap.
Maybe, if I had been a transgender, Palestinian Muslim and was attacked by white Jewish settlers, my book would have been snatched up immediately.
Not to worry peeps.
We are going to WIN this war, against the British funding of terrorism, and the fake news that tries to stifle my voice.
My book is now finally available in paperback and kindle from Amazon – both on the .com and also .co.uk